FORMS Gallery is a dynamic structure for working with artists. It was founded by Anthea Buys in 2021 and works closely with ten artists, most of whom are in the early stages of their careers.

FORMS draws on gallery, institutional and independent curatorial models, presenting a programme that takes shape through a combination of online and in-real-life manifestations. At the heart of this programme are ongoing collaborations with artists who make work that is critically, aesthetically and politically important. Also central to the FORMS ecosystem are connections with like-minded spaces, people and organisations.

Email
Instagram


Hedwig Barry: Here Is Where We Meet
NIROX Sculpture Park, Johannesburg
22/02/2022–13/03/2022

About Hedwig Barry.

Download the catalogue (44.6 MB).
Download small version of the catalogue (10.4 MB)

View the exhibition on Artsy.

Press Release:


FORMS Gallery and NIROX Sculpture Park are pleased to present
Here Is Where We Meet
, a solo exhibition by Hedwig Barry.
Barry's first solo exhibition,
Here Is Where We Meet
, is a collection of sculptures and paintings completed during her seven-week residency at the NIROX Sculpture Park.
The exhibition centres around new Crumple sculptures, large-scale three-dimensional works made from massive sheets of crumpled metal welded together and then painted to create complex and enigmatic forms.
The Crumple series dramatises the relationship between force, scale and fragility, drawing attention to the simultaneous structural resilience and vulnerability of the work's primary material, aluminium sheets. Barry's sculptures explore the relationship between destruction and preservation, force and form: the works were initially inspired by crumpled up paper, and then invisible "crumple zones" in cars – areas in the bodies of cars which are designed to buckle in the instance of an accident, absorbing the force of impact and protecting the bodies inside the vehicle.
Alongside the Crumple sculptures Barry presents paintings on canvas which continue her exploration of automotive paints and painting techniques used on the Crumples' surfaces. These paintings derive from memories of experiences in nature, using colour and form to evoke different environments that are ecologically unique and increasingly vulnerable. The visual language of the paintings spills into the sculptures, areas of which are hand-painted in a similar style.
"The surfaces that interest me provide opportunities for forms of looking that are persistent and patient, and therefore resilient," Barry says. "At the same time, I strive to create surfaces that are enchanting and seductive, that offer the viewer an experience of the sublime. I see exuberance, enchantment and resilience as concepts that are unified through both the act of making work and the act of experiencing it as a viewer. Through creating complex and exuberant surfaces, I investigate the ways in which we – artists and viewers – can practice different kinds of resilience, self-care and space-holding for ourselves and others."
The exhibition extends from the Covered Space at the NIROX Sculpture Park to the park grounds, and until 4 February will be supplemented by smaller-scale works and exploratory video pieces on show in and adjacent to the studio in which Barry has been working for the duration of the residency.
Scroll down for image captions.
---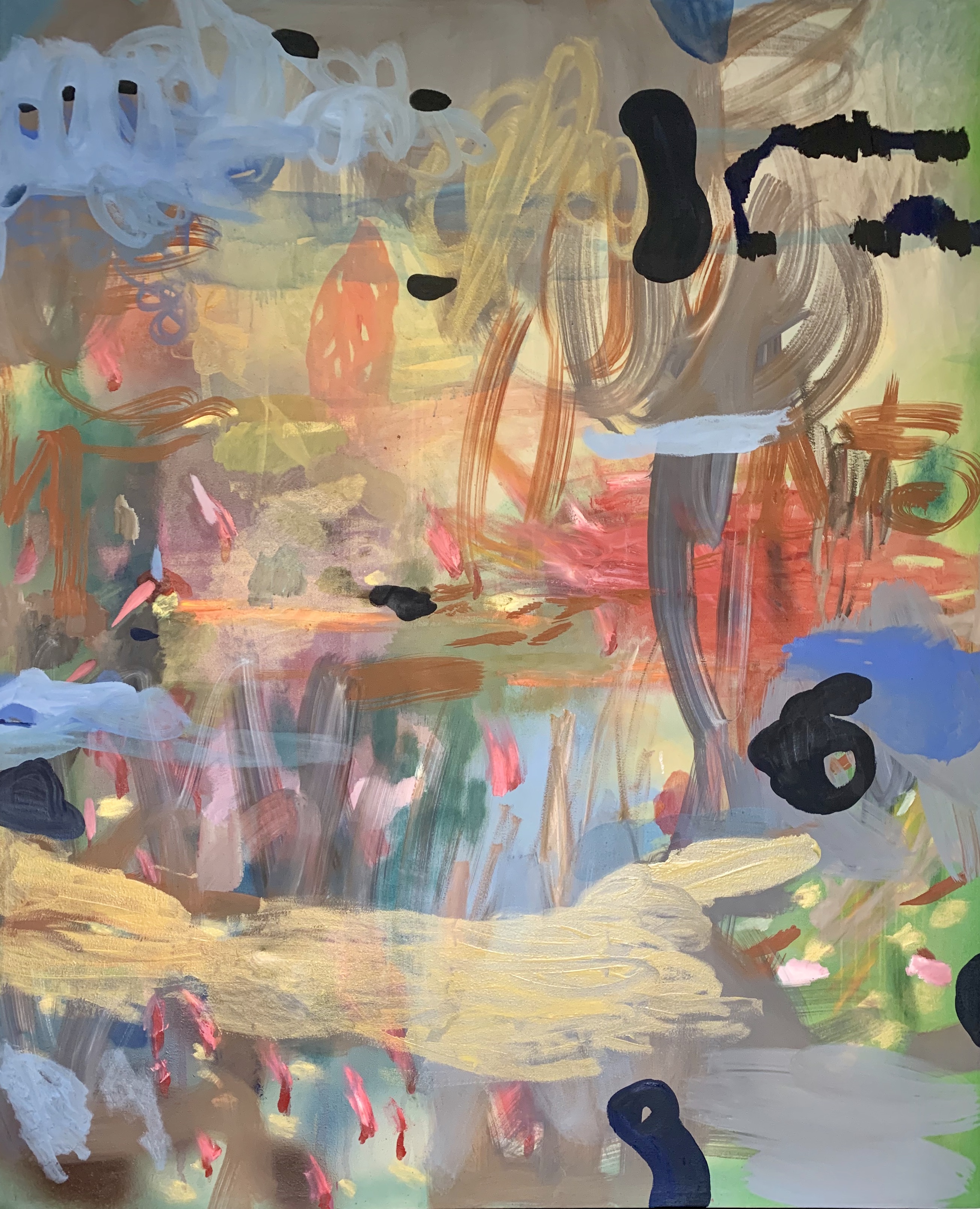 Images (top to bottom):
1. Installation view showing "Angel of History" (sculpture) and "Johannesburg" (painting). Photo: Alexi Portokallis
2. Installation view showing "Arch".
3. Hedwig Barry, "Arch", 2022, automotive paint on aluminium, 170 × 350 × 170 cm. Photo: Alexi Portokallis
4. Hedwig Barry, "Seat", 2022, automotive paint on alumnium, 120 × 120 × 60 cm. Photo: Alexi Portokallis
5. Hedwig Barry, "Mother", 2022, automotive paint on aluminium, 390 × 260 × 270 cm. Photo: Alexi Portokallis
6. Hedwig Barry, "Sharkboy", 2022 Automotive paint on aluminium, 180 × 110 × 210 cm. Photo: Alexi Portokallis
7. Hedwig Barry, "Marievale", 2021, automotive and oil paint on previously used canvas, 160 x 130 x 7 cm. Photo: Liz Whitter
8. Hedwig Barry, "Tswalu", 2021, automotive and oil paint on previously used canvas, 160 x 130 x 7 cm. Photo: Liz Whitter
9. Hedwig Barry, "Johannesburg", 2021, automotive and oil paint on previously used canvas, 220 x 100 x 7 cm. Photo: Liz Whitter
10. Hedwig Barry, "Makuleke", 2021, automotive and oil paint on previously used canvas, 220 x 160 x 7 cm. Photo: Liz Whitter